See on Scoop.it – Serre Chevalier ski resort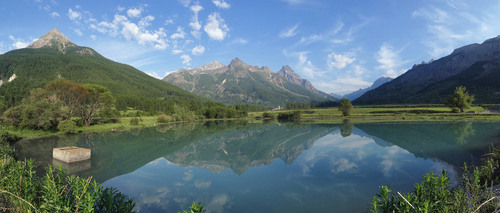 1 – RELAXATION: Serre Chevalier no stress: away from the bustle of the cities, traffic and pollution, the well-being is provided by the song of the river and the whistles of marmots … Discover the hot springs of Monêtier in a natural hot water .. And if you get too warm,our new Biotope lake
Enjoy only days as you wish .. Holidays to rest and do nothing else than to enjoy a picnic in a pasture … we use to do it at the weekend..
2 – CHOICE : in Serre Chevalier, there are so many activities that you can not do everything … so take time to choose! And especially with the smart card pass, to get a 20% discount on activities, it's a plus for our Budget! We use it ourselves, then who better than the people living here can share this good deal!
3 – FOR EVERYBODY : There is something for everyone in Serre Chevalier..children, teenagers, parents, grandparents … sports enthusiasts, those who enjoy relaxation, nature lovers .. .. there is something for everyone .. Our children, teenagers, parents enjoy their region…
4 – CLIMATE: sun, clean air, blue sky. The Hautes Alpes region is famous for its 300 days of sunshine per year! and Provence is not far away. During daytime, temperatures are aroung 30°C but nights are cool and allow you to sleep well .. without mosquitoes… you are at altitude!
5 – HOME: our specialty is smiling and happy welcoming… you will not be disappointed! We want you having a great time .. because our aim is to see you back… and we will always be there to welcome you!
6 – PROXIMITY: Serre Chevalier is closer than you think …our region is in the heart of the Alps, few hours from major airports : Lyon, Marseille, Turin or Milan. When we drive to the sea, it takes only three hours, so if you visit the coast this summer, take a break in mountains
7 – FACILITY: No problem to get around, no problem to park cause carparks are free, no problem of transportation : there is a station, daily bus connections with Italy (and the TGV station Olympics in Turin 2006), Grenoble and Marseille. And in addition, we propose you coaches excursions !
8 – THE PRICE-But Serre Chevalier is really affordable ! This summer, an apartment 4 people from 260 € per week!! At this price, you can also choose to spend two nights by the sea… 🙂 and most of events and guided tours are free!
9 – DISCOVERY – Serre Chevalier has an impressive cultural and natural heritage: the Vauban fortifications, UNESCO World Heritage, the Ecrins National Park and its peaks at 4000m, the frescoes of the fifteenth century, the countless lakes … We spend our offseason to see everything we have not seen yet … And the environment : no need to close your car windows and put the aircon .. aircon is natural, enjoy!
10 – TECHNOLOGY: Serre Chevalier is not out of touch, if you miss technology: Broadband is available in the valley, 3D cinemas exist, smartphone apps, touchscreens are part of our environment… but is it really a good reason for coming to Serre Chevalier ?